Used By Experts
The Equicizer™ is used by many of the world's top equestrians, learn how it might help you!
Click on the area of riding that most interests you and meet some of our Experts:
Western Riders
Steve Lantvit
Steven Lantvit is a full-time Equine professional in training and award-winning instructor whose goal is to contribute to the betterment of the relationships between man/woman and horse. His background started from English disciplines such as polo and jumping and has expanded greatly over nearly 2 decades to include the western disciplines. With a wide array of experiences across both disciplines, his focus on training is that of all around horsemanship and the creation of the versatile horse. Steve's popularity and horsemanship lead to his success in launching his TV series "Sure In The Saddle" which is now airing on both RFD-TV and RuralTV/FamilyNet. Visit: SteveLantvit.com for show times and to learn more about Steve, his amazing clinics and his beautiful Highgrove Farm!
Ed Dabney
Ed Dabney's philosophy and mission of Gentle Horsemanship is to assist horses and their owners in having a more safe and pleasant life together by establishing a relationship of mutual respect and trust through the use of gentle communication. Ed's blending of natural horsemanship and classical equitation has made an indelible mark with students all across the United States as well as in Europe, drawing the attention of serious riders searching for the lightest touch and the deepest connection with their horses irrespective of breed or discipline. Ed is now using the Equicizer as a teaching tool to help his students achieve a better feel and communication with their horse. To learn more about Ed, visit: EdDabney.com
Craig Cameron
A native Texan, Craig Cameron, one of the original clinicians, is on the road more than 44 weeks a year covering 80,000 miles demonstrating the style of horsemanship he has perfected in the last 23 years. Called the "public defender of the horse," Craig dedicates himself to those who educate their horses by first educating themselves. At an age where most have long since retired the thought of starting colts, Craig Cameron known as "The Cowboy's Clinician," starts hundreds of horses each year; plus his four-day clinics held at his ranches in Bluff Dale, TX and Lincoln, NM blend education with entertainment. To learn more about Craig, visit: CraigCameron.com
Stacy Westfall
Even as a young child growing up in Maine, Stacy loved horses and rode whenever she had the chance. She got her first pony, Misty, when she was six. Her mother Sherri was Stacy's only instructor in riding and training until she went to college. As Sherri looked on she would ask questions that prodded Stacy to think deeply about the mindset of the animals. "Why do you think Misty just did that?" or "How do you think you could get Bay to want to cooperate? What is she thinking?" The habit of getting inside the horse's head, of thinking like a horse, became second nature to Stacy. To learn more about Stacy, visit: WestfallHorsemanship.com
Tommy Garland
Before coming to notoriety as the equine industry's most popular up-and-coming clinician, Tommy Garland gained recognition as one of the country's best trainers and most successful showmen of Arabian and Half Arabian horses. Tommy has ridden horses virtually all his life and credits his trainer father, also named Tommy, with much of his early learning about horsemanship. Tommy grew up under his father's tutelage training Quarter Horses, Saddlebreds, mules, walking horses and Arabians. "My father had a tremendous gift with horses, and I was lucky to be able to learn from him. He taught me to use patience and care, never to rush with a horse. Some people prefer to forget where they come from — I think about it every day," says Tommy. To learn more about Tommy, visit: TommyGarland.com

English Riders
Ruth Hogan Poulsen
Ruth is a USDF Bronze, Silver and Gold Medalist & Freestyle Gold Bar Award-winner with a commitment to personalizing the dressage experience for each horse and rider. Vermont-based Ruth Hogan-Poulsen is making her mark on the US dressage scene.
In the early 90s, Ruth earned many of her earliest opportunities in the FEI ring by applying her individualized approach to "difficult" horses. Understanding the need to address the different learning processes of "problem" horses, Ruth also began to apply more dynamic training for riders as well. To learn more about Ruth and her Equicizer "Rocky" visit:
Betsy & Jessie Steiner
During Betsy's career, she has successfully trained many horses to Grand Prix including Attache, Special Delivery, Ortac, Komtur, Unanimous, Metternich and Hilltop's Giotto. With Grand Prix wins at prestigious shows around the country, Betsy has enjoyed success at the highest levels for more than three decades. A USDF Bronze, Silver and Gold medalist, Betsy has numerous FEI wins.
One of the highlights of Betsy's illustrious career was when she represented the United States at the World Equestrian Games in Stockholm, Sweden in 1990 aboard her own Dutch Warmblood, Unanimous. (Photo left - Betsy and her Equicizer "Vino Tinto")
Jessie has been acting as Assistant Trainer and managing the business side of Betsy Steiner Dressage since 1995.  She has trained several horses up to FEI Levels in addition to starting the careers of several talented youngsters.  She has clients ranging from beginners to competitive upper level amateurs. Some of Jessie accomplishments include; USDF Bronze and Silver Medalist and obtaining the Bronze Team Medal at the 1992 NAYRC. To learn more about Betsy and Jessie Steiner, please visit: SteinerDressage.com (Photo right - Jessie Steiner in the saddle)
Jane Savoie
Classic Dressage Jane Savoie is one of the most recognized names in dressage, and for a good reason. Her accomplishments and the breadth of her influence are impressive. She has been a member of the United States Equestrian Team and has competed for the US in Canada, Holland, Belgium, France and Germany. She was the reserve rider for the Bronze medal winning Olympic dressage team in Barcelona, Spain. She has been long-listed by the USET with several horses and has won nine Horse of the Year awards and three National Freestyle Championships.
Therapeutic

Lisa Wysocky
Lisa Wysocky is an Equine Assisted Activities & Therapies Expert. Along with this, she is an author, equine clinician, and motivational speaker who also trains horses for and consults with therapeutic riding programs across the country. Born in Minneapolis and raised in a nearby suburb, in her teens a riding instructor taught Lisa that by striving to be the best you can be, you often become the best anyone can be. That concept of success, and the instructor's insistence that how you won in the show ring--or in life--was more important than what you won, changed her life. To learn more about Lisa, visit: LisaWysocky.com

Sandy Lovato
Sandy Lovato is a life-long horseman, mother of 3 and wife of the Equicizer creator, Frankie Lovato, Jr. Her passion for horses and helping others was the inspiration behind founding the Stampede of Dreams Therapeutic Riding Program of Norwalk Ohio. There, Sandy has served as the Program Director and PATH International Certified Therapeutic Riding Instructor since 2009. Sandy is always happy to offer any insight on how the Equicizer is utilized with her program and riders. She can be reached by emailing info@stampedeofdreams.org. You may also enjoy this video demonstration made by Sandy, click here to view: The Equicizer being used for Equine Assisted Activities & Therapies VIDEO
Now that you have met some of our Experts using the Equicizer for therapeutic purposes,
Racing
Frank Lovato, Jr.
Frank Lovato, Jr., known as "Frankie," was a professional jockey for 25 years. In 1980 he won the Eclipse Award for Outstanding Apprentice Jockey, one of horse racing's highest honors. After a riding accident left him with a broken leg in 1981, unable to find something that could get him race-fit again without the risk of getting on real horses, he created a wooden mechanical horse to help with his rehabilitation. This was the birth of the Equicizer, which is now used by all kinds of riders all over the world for exercise, traning and therapy. Upon his retirement in 2004, Lovato devoted himself entirely to making Equicizers and continuing to educate those wanted to make a career out of or learn more about the horse racing industry.
In 2009 Lovato created his now annual "Jockey Camp" where students of all ages come from around the nation to learn more about the racing industry, including what it takes to become jockeys and exercise riders. In 2010 he released his "What It Takes To Be A Jockey" DVD and his travel size "Frank Lovato, Jr's Racing Terminology Booklet" with over 450 racing terms. In 2011 Lovato founded "Jockey World" a 501(c)3 non-profit educational organization that provides knowledge, including guidance in health and safety, for those desiring to have a career or just learn more about the racing industry, and an educational radio program - "Jockey World Radio" - frequently featuring top industry leaders as guests.
Lovato is constantly coming up with fun and exciting educational tools for racing enthusiasts and in 2013, he took on a "365 Days of Racing Terminology" video series challenge, using terms from his term booklet.
Exercise & Fitness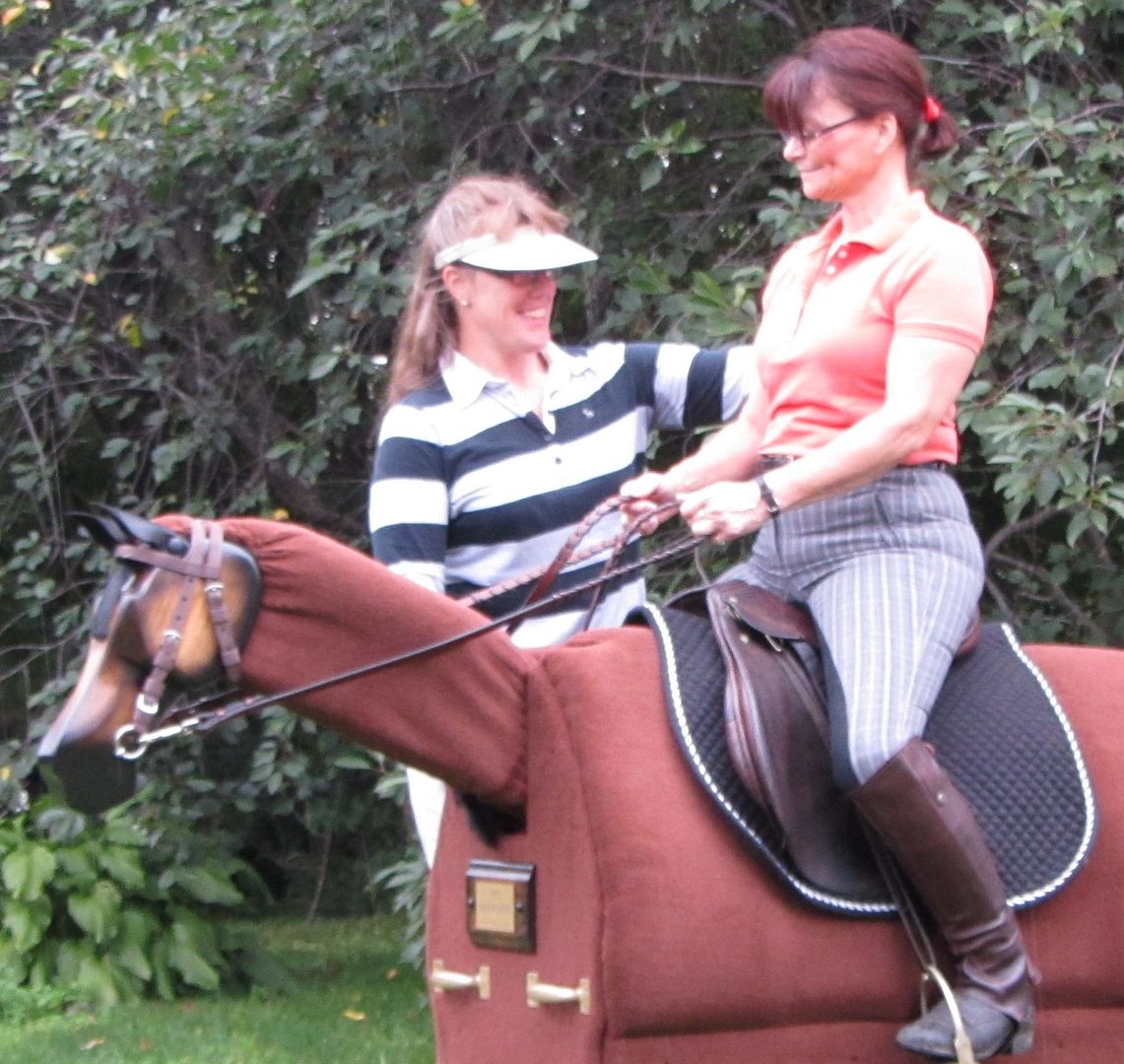 Heather Sansom 
Heather Sansom has been involved in fitness and competitive sport for over 25 years, and in equestrianism for just over 30 years.  She is a certified personal trainer and equestrian coach. Heather's equestrian involvement includes some experiences in eventing, competitive trail and endurance training, hunter, fox-hunting, polo, natural horsemanship and her core discipline: classical dressage.  She and her current horse were provincial champion at the Jeux Equestres du Quebec in 2004 in Level 2.  She is currently training in Dressage at Level 4. In addition to training clients and conducting clinics and workshops, Heather speaks on topics related to fitness for all ages, as well as sport conditioning specifically for equestrians. Heather has published over 100 articles in national and international online and print magazines on topics related to sport conditioning and fitness. Heather is also an Equine Canada Competition Coach (English disciplines) and a Certified Level 1 Centered Riding Instructor. Learn more at Equifitt.com.
Visit our online shop to view our Equicizer™ Models and Accessories. Have questions? Email us: info@equicizer.com or give us a call at 419-663-1472.
Wooden Horse Corporation is located at 819 W. Dublin Rd. Norwalk, OH 44857